Adding additional gallery indexes as main nav menu items
If you're using TTG CE3 Pages you already have a page to display your galleries. On this page you can place galleries and indexes that lead to other galleries. (If you're using Publisher to manage things then you'll have Albums and Album Sets.)
With this scenario, visitors can come to your page, click on the Galleries page link, and see a page with links to galleries and indexes. You might have an index for Landscapes, another for Travel, another for Still Life. You might even have a link that leads to a Client pages index.
But what if you wanted to keep your client work completely separate from your personal work? What if you wanted a completely separate navigation menu item that leads to your Clients page?
With TTG Autoindex, this is easy to do.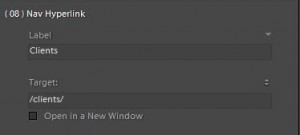 In Lightroom, bring up the Autoindex engine and style it as you like. You can do this either by using a user template for an existing autoindex design, create a brand new design just for your client pages, or you can share user template settings from another TTG web engine, like Pages. Make sure you go to the navigation section in the Site Info control pane to add the new Clients navigation item. Let's assume that this new autoindex will be in the root of your site. Set the navigation target to /clients/. At the very least, you'll also need to change the navigation in Pages so that your clients will be able to find their main page. You'll also probably want to include the Clients menu item in any client galleries you generate.

Once designed, export and name it whatever you like (letters, numbers, hyphens, and underscores only. No spaces). Let's just name this one "clients."
Now upload the entire exported clients/ folder to the root of your site. That's it. Now all you need to do is populate it with client galleries, or even more indexes if you have clients with more than one gallery.
Variations on the theme
What if you're using Publisher? Since the new folder (clients/ in this case) was uploaded to the root of the site, and the publisher/ folder should also be in the root, just create a new Publisher instance in Lightroom and set 'clients' as the top-level gallery folder. This way you can manage client albums completely separate from your other work.
But what about the navigation? What if you want that new menu item to be on all of your other gallery and index (album and album set) pages too. Unless you're using phplugins to manage your navigation, you're just going to need to manually change all indexes and galleries. If using Publisher, you'll just need to update the specific templates you're using.
It's for instances like these that I always recommend enabling phplugins globally right from the start. You may not need to use that feature yet, but if you do, it's a whole lot easier to have the infrastructure in place first. Otherwise you'll need to export and upload everything all over again just to enable the phplugins functionality.